store hours & locations
Where can I find details on store hours and locations?
All shop AT NAIT store hours and locations can be found on our website. Hours of operation are generally expanded at semester starts and/or at the beginning of apprenticeship intake periods.
Does shop AT NAIT have a shoppable online store?
Yes, we do. Check out shop.nait.ca for all you course materials, NAIT apparel and giftware.
Where can I park if I'm coming to campus to visit shop AT NAIT?
If you're making a short trip to campus, convenient payment options are available including pay-by-plate parking machines and touchless payment through the Honk mobile app. Parking rates can be found through the NAIT Parking website here.
The two lots that are closest to the main campus store are indicated below.
Please be aware that the entrance to 109 St from Princess Elizabeth Ave has been permanently closed due to the LRT expansion, so please use the provided map to access shop AT NAIT through 118th Ave to get to both shop AT NAIT parking, as well as curbside pick-up.
---
General Information
How can I obtain an ETS (Edmonton Transit System) Pass?
The U-Pass is a group discount program that lowers the cost of transit for NAIT Students. The U-Pass is now digital – no more stickers. You can read more information on NAITSA's website here.

shop AT NAIT has youth passes available for $72.50 for students or individuals 24 or younger, adult bus passes are also available for those who wish to purchase them. We also sell books of ETS transit tickets for your convenience. Transactions must be made in-store and require proof of identification and/or NAIT enrollment.
Looking for parking on campus?
Please check out the Student Parking page for details about parking on campus.
These 'frequently asked questions' don't provide an answer to my question. How do I reach the shop AT NAIT team?
During semester starts, all shop at NAIT locations are actively serving customers. You can reach out to us in these various ways:
E-Mail: shop@nait.ca
Phone: 780-491-3101
Facebook: @shopatnaitbookstore
Instagram: @shopatNAIT
Twitter: @shopATNAIT
How can I provide feedback regarding the service I've received through shop AT NAIT?
We have an online survey tool. We would appreciate if you could take the time to complete it at shop.nait.ca/survey
Accessing Student Booklists
How do I find the required books and supplies for my classes?
Each student can easily access a personalized course materials list based on the classes that they are enrolled in. To do so, login to 'MyNAIT Student Portal' and then choose the 'buy my books & supplies' link.

You will then be taken to you personalized course materials list. This list can be used to find your resources in store or purchase directly from our online store.
As the 'I want to' section is constantly updated throughout the year, the 'buy my books & supply' choice will sometimes not be available. If you need to see your booklist, please head to shop AT NAIT and manually select the courses you are enrolled in to generate your booklist
In our main campus store, books are sorted alphabetically by title. The 'My Books & Supplies' list will generally include the store location (aisle) that the item can be found in and will also indicate if the item is currently in stock.
'My Books & Supplies' List lists both an etext and a print resource for the same resource. Do I need to buy both?
In some instances this may happen. Rest assured that you will only need to buy either the print resource or the digital version - not both.
Course Material Format
Do you have used books?
If used books are available, they are shelved in the same location as the new books and will have a yellow "USED" tag on the spine. We aim to have a large number of used books available for resale to students. However, due to COVID-19, book buyback programs were put on hold in 2020, so the quantity of some USED books will be lower than usual. shop AT NAIT is considering a used book buyback program for the spring of 2022.
What is a supply kit and why do I need it?
Kits are course required supplies, selected by your instructor, to successfully complete your course. It is highly recommended that students purchase the kits provided by shop AT NAIT, as they meet the specific class requirements. shop AT NAIT takes the headache out of buying each of the individual parts and combines them into a convenient kit.
My resources say that they're 'digitally integrated'. What does that mean?
This means your electronic resource will be available to you in a digital bookshelf, on your first day of class through Moodle. You will have a free trial period to test drive this digital version. Your instructor will provide additional details about these resources on the first day of class. shop AT NAIT can provide options for print if preferred.
What is an etext and how do I access it?
An etext is a digital copy of your course resource. Etexts may also be linked to supplemental course material that your instructor has selected. Etext access instructions are provided for you at the time of purchase and include trouble shooting guides in the event that you have difficulty accessing. We can only support etexts purchased through shop AT NAIT.
What is an access code?
An access code is a unique code you use to access course content online. The content depends on the course, which might include an e-book, practice exam questions, interactive videos, and course assignments. Examples of access codes are Connect, MyLab, Revel, Mind Tap & Nelson Brain. shop AT NAIT does not sell access codes separately.
My etext requires a 'classroom code'. What does this mean?
This is a unique class password, set up by your instructor, that will be provided to you on the first day of class.
How do I order & access the new digital version ILMs?
Go to your student portal home page and click on 'buy books & supplies' link.

Once you've clicked on 'buy books & supplies', your personalized course list will come up. You will select the digital version of the ILM for your program and "add to cart".
Once you have added all the items to your cart go to "Checkout" to complete purchase. Once the purchase is complete, you will receive two emails - 1 NAIT online store confirmation and 1 Your access code email.

Click on "Redeem My Access Code" in the Your access code email. This will open a Code Redemption page. To redeem your code, enter the code and email address that you use for the student portal sign on into the correct boxes. Read the disclaimer and if you agree, click "I Agree" before selecting "Redeem Product".

Once you have selected "Redeem Product" a new page will open with a 3 step process for accessing your digital ILM. If you have not already done so, you will need to install the Reader software under Step 1 for the appropriate device.

Once you have followed the instructions on downloading the reader for your device, Adobe Digital Editions app will open. Go back to your code redemption page in your web browser and go to Step 3 - Download eBook.

Please note you do not need an Adobe ID to download the material. Select the authorize computer without Adobe ID button on the bottom left hand corner. Once the download is complete, your ILM will be available in the reader.
When I attempt to look at 'my books & supplies' list, there aren't any resources listed. What does this mean?
In the event that this should happen, please speak to your instructor. It is possible that your resources will be available to you through Moodle on the first day of class.
Sponsored Student
I am sponsored to go to school. What are my next steps?
Have your sponsor complete and sign the Third Party Sponsorship form located here. Once completed and signed, your sponsor must send the form to both NAIT student services through their contact form (for the tuition and fees portion), as well as shop@nait.ca (for the books and supplies portion)
What am I allowed to purchase?
Your sponsor will indicate what you are allowed to purchase, as well as the defined maximum amount you are allowed to spend per sponsored term on your Sponsorship Form. Your sponsor will likely ask you for a list of all required items for your courses which can be found on your personalized booklist on your myNAIT portal or through learning material search here. If an item does not qualify through your sponsorship, you will need to purchase it separately or have your sponsor edit the sponsorship form to indicate that change.
How can I confirm details about my sponsorship account and that my account is set up properly before I come into shop AT NAIT?
Please email shop@nait.ca or phone780-491-3101
How long does it take for my sponsorship to be set up?
The time varies based on the length of time that it takes for your sponsor to complete your paperwork. Once shop AT NAIT recieves your paperwork, your account will be set up in less than 1 day.
Why do I have no money available on my sponsorship account?
This usually means that your Sponsor has set a certain start date for purchasing items. It could also mean that your Sponsor has not completed or sent in your paperwork properly. You can confirm this information with your Sponsor.
I am from outside Edmonton and can't come into shop AT NAIT, what do I do?
Once your sponsorship account has been set up (please confirm as per above), send an email to mailorders@nait.ca with a picture of your NAIT student ID, photo ID and a exact list of all the items you are looking to purchase through your sponsorship. Sponsorships cannot be processed directly through our web store.
Online Orders
How do I track an order that is being shipped to me?
Once your order has been processed and Canada Post has accepted it and started the shipping process, you will receive an email from them with your tracking information
What is the average turnaround time until online orders are either shipped out or are ready for pick-up?
Orders for delivery or in store pick-up will be processed and ready for shipping/pick-up within 1-2 business days. Next day curbside pickup (seasonal) will be available on Main campus only Monday to Friday 10:00AM-2:00PM (not including statutory holidays). Order processing time may be slightly longer during peak times (ie. semester starts).
Shipping Rates within Canada
| Destination | | Shipping Rate |
| --- | --- | --- |
| AB & SK | | $15.00 |
| BC, MB, ON, QC | | $20.00 |
| Maritimes, YK, NWT | | $25.00 |
| NL, Nunavut | | $35.00 |
Online Payment Types
What form of payments do you accept?
We accept Visa, Mastercard, American Express, and now we also accept one AT NAIT cards
How to pay with your one AT NAIT funds?
Once you have everything selected proceed to the cart, if you have funds available in your one AT NAIT account an option to use them will be available in the checkout process.
Can I partially pay for my order with my one AT NAIT funds and my credit card?
Absolutely! just enter the amount you want to pay from your one AT NAIT funds, and click on the confirm button, and you will be redirected to the credit card payment page to finalize your order.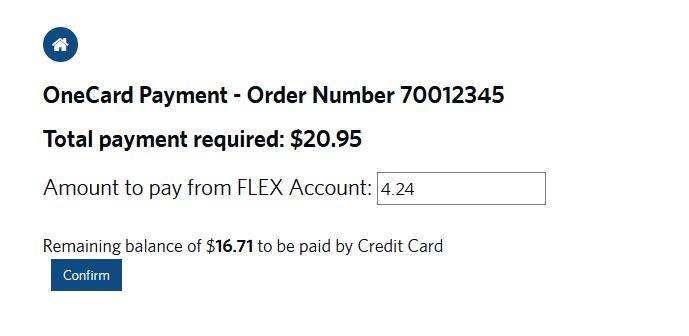 Order Compartment Pick-Up
How do I choose parcel compartment pick up?
>When you are checking out after creating an online order at shop.nait.ca, you will have the option to select "Order Compartment Pick-Up". The location of our parcel compartments is on the 2nd floor overpass between the HP Centre and the Feltham Centre (CAT)
When will my parcel compartment order be ready to pick up?
Your order will be ready for pick up after 4 pm the next business day. You will receive your code and compartment ID once your order is ready.
Where do I pick up?
How do I access my order in the compartment?
Follow prompts on digital screen near compartments. System will ask you for your compartment ID and code. You will receive these numbers through email and/or text. If you enter the compartment ID and code correctly, the compartment will pop open and you will receive ONE-TIME access to grab your order.
How many times can I access my locker?
You can access your locker ONE-TIME. Once you have opened and closed the compartment, you cannot re-open it with the same code.
What happens if I get locked out of my compartment?
Call the phone number listed on the screen near the compartments. You will be put in touch with a customer support representative who will be able to assist you. Please have your order #, phone number and email ready when calling. A shop AT NAIT attendant can assist you remotely between 8 AM – 8 PM Monday to Friday, if necessary, but please call the customer support first. After this time frame, it will be next business day service.
What happens if I forgot my code?
We can re-send your code to you during shop AT NAIT business hours, if you have not accessed your compartment. If you have already accessed your compartment, refer to 'locking yourself out' for details.
What happens if my code does not work?
Contact 24/7 customer support representative - number will be on the parcel compartment digital screen
What if some of my items are damaged or missing?
Shop AT NAIT staff are diligent when both processing and transporting your order to the parcel compartment. Double sign off by two staff members will be needed when dropping off items into the compartment. If you still have issues, please bring your order to shop AT NAIT during our business hours.
What happens if I do not pick up my order within 3 business days?
Your order is returned to the main campus shop AT NAIT bookstore. If you do not pick up your order within 90 days, your order will be cancelled and refunded.
one AT NAIT cards
1. Can a recent grad or part-time student who isn't currently taking courses still use the funds loaded on their card?
Recent grads or students who aren't currently taking courses have up to 18 months after their graduation/last course to use their card online. The key word being ONLINE. This is due to Active Directory (AD) access expiring after 18 months which is required for authentication. The funds on the account never expire and students can always refresh their AD access by going to my.nait.ca and clicking sign up. They can also use their card in person.
2. What if a staff member had funds on their card but no longer work at NAIT?
Staff is a bit different as staff use their AD access for more than students and as such their access is turned off immediately. Additionally, the current HR process pays out their one AT NAIT card balance as part of their settlement package. This means that staff usually have no funds in their one AT NAIT account after leaving NAIT.
3. Can a third party load funds onto a one card (like a student's parent)? If so, what info do they require to do that?
Yes parents, guardians, or other third parties can load funds onto student's one AT NAIT account by going to the following link https://onecard.nait.ca/OneWeb/Parental/LogOn.
Digital Integration Troubleshooting
I am having trouble redeeming or accessing my digital resources purchased through shop AT NAIT
shop AT NAIT currently sells digital resources on several different platforms, depending on both classroom and publisher requirements. shop AT NAIT understands that starting a new class can be stressful, and facing digital resource problems can add additional stress. We have personally curated and compiled a series of troubleshooting steps that has your success in mind. You can access the troubleshooting guide here.
I have gone through the troubleshooting steps, and I am still having problems. Now what?
If you are still having troubles accessing your material. Please contact us at shop@nait.ca or come see us in store for additional assistance
I am having issues accessing materials purchased directly from the publisher
If you have purchased your digital resources directly from the publisher, you can follow the first portion of the troubleshooting guide here. If you are still having problems, you will need to reach out to the publisher directly for further help